As a distributor, choosing customer relationship management (CRM) software can be daunting. After all, we've all heard horror stories about costly CRM investments that fail to help the business, frustrate the sales team, and ultimately collect dust.
In fact, according to a Distribution Strategy Group study, only 50% of distributors' sales reps and sales leadership regularly use their company's CRM solution. This suggests that there is a significant opportunity for distributors to improve their sales processes by selecting the right CRM software.
So, what sets a successful distribution CRM apart from a failed one? Distributors should choose a system that is specifically designed for their needs. A one-size-fits-all CRM solution may not provide the necessary tools and features to support the complex sales processes of a distribution business. Making a traditional non-distribution-focused CRM work for you will likely take more resourcing and financial investment than you feel is worth it. So instead, look for a CRM that is built specifically for distributors and offers a comprehensive set of features to support all aspects of your sales operations.
Choosing the right CRM for your distribution business is crucial. Keep reading to understand why and to learn how to select a solution that supports your unique needs and drives sales success. 
What Is a CRM? 
Typically used by customer-facing teams and sales managers, CRM stands for customer relationship management and is software that allows businesses to track relationships with customers easily and efficiently in each stage of the customer journey — all on a single screen.
An effective CRM can help distributors: 
Find all of the data they need on a single screen for complete visibility into customer activity, product information, and team performance
Prioritize which actions to take based on customer status, recent activity, and potential revenue impact
Eliminate hours of busywork and administrative tasks for sales reps 
Why Traditional CRMs Don't Work for Distributors 
There's no shortage of CRM platforms on the market, but many legacy CRM systems, like Salesforce and Dynamics, aren't designed with distributors in mind. If you buy a traditional CRM, expect to spend countless hours tailoring it for your sales reps and driving adoption. When your CRM feels like a chore, reps won't use it.
Unlike most businesses, distributors carry heaps of products – tens of thousands up to millions of SKUs. Most CRMs aren't built for companies selling this volume of products – and distributors who invest in traditional CRMs quickly find out their limitations.
Problems Distributor Face With Traditional CRMs 
1. They don't unlock full customer visibility
Legacy CRMs don't give distributors full visibility into what's happening with their customers across multiple sales channels. They don't have the ability to integrate with all a distributor's essential data sources such as an ERP, PIM, document storage, and ecommerce platforms. This makes it challenging for reps to access information they need to personalize their sales interactions – like a customer's information, their order history, online browsing activity, etc. 
2. They don't promote proactive sales approaches 
Manually collecting customer and product data for traditional CRMs can be tedious and time-consuming for sales reps, leading them to rely on generic, reactive strategies instead of personalized, proactive approaches. For example, we often see outside sales reps trying to maintain relationships with their customers by dropping off donuts at their offices instead of recommending consultative solutions or following up on a previous discussion. While this may be a delicious gesture, let's face it – it's not an effective sales strategy. We also have witnessed sales reps toggle between many systems to track down information they need. We've met hundreds of sales reps that lack efficiency because their CRM doesn't allow them to easily search and find up-to-date product information.  
3. They're seen as a data-entry chore (as opposed to a helpful tool) by reps 
Many salespeople view CRMs as a tedious and time-consuming task, rather than a helpful tool. The requirement for extensive manual data entry can make them feel like more of a burden than a benefit. Often, CRMs are seen as a way for sales managers to track activity rather than a way to support reps in achieving their sales goals. 
4. Their mobile experience leaves more to be desired
While many CRMs may claim to be mobile-friendly, we've seen firsthand that they can be a nightmare for reps to use or are severely limited. We recently observed an outside sales rep in the field using a traditional CRM. They remarked that although the app claimed to be mobile-friendly, it wasn't user-friendly on a mobile device.
Ultimately, in the product-focused world of distribution, you need CRM software capable of integrating with and handling a large volume of product data and sales transactions so your sales team can nurture existing customer relationships, and grow new ones. When your ERP, PIM, ecommerce site, and CRM work together, your commercial team will function like a well-oiled machine. They'll deliver proactive, problem-solving experiences that keep customers coming back for more.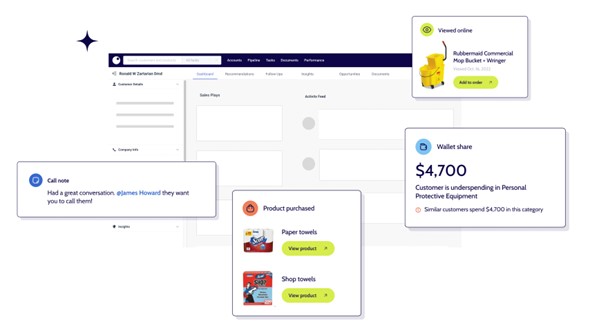 Features Distributors Should Look for in a CRM 
An effective CRM for distribution companies will have several basic features:  
Accounts: You need to know what businesses or organizations are Current or Prospective customers. A CRM can provide a centralized view of each account. 

Contacts: Contact details include customer name, title, phone numbers, email addresses, and other notes that could be helpful for nurturing relationships.   

Opportunities: CRMs can tie together contacts and accounts with potential sales so you can track everything in one place. 
Every CRM worth its salt offers these features on some level. In addition to these basics, the CRM you choose should also give you these features:
Products: A robust CRM will pull in product data from your PIM (or wherever product data is stored), so your sales reps have rich product data at their fingertips. The most distinguished CRMs will offer AI-powered product affinities, so a rep can find product substitutes and add-ons within the app.
Reporting. You'll also want to look for a system with first-rate reporting tools. These include reports on the sales pipeline, product attributes (such as vendor or manufacturer), and usage insights to coach sales teams.
Predictive analytics. Your CRM should have mechanisms for guiding sales reps toward the right customers and sales opportunities. Distributors are high-volume businesses, so without AI to cut through the noise, it can be hard for a sales rep to figure out who to call and what to sell.
Integration. Look for a system with pre-built connections to commonly used distribution tech stacks including ERPs, PIMs, document storage and ecommerce sites. The more tools you integrate with, the fewer screens your teams have to juggle day-to-day. 
As a distributor, you'll want to look for a CRM that allows you to add products, track activities, and manage your sales pipeline through multi-stage procurement and sales processes.
Selecting the Best CRM for Distributors 
When selecting distributor CRM software for your organization, opt for a platform that unlocks the following benefits.
It acts as a system of action 
If your CRM only serves as a system of record for tracking data points, it becomes a tool for sales managers, not sales reps. Distributors see low adoption with "system-of-record" CRMs. Instead, you need a low-admin CRM that equips sales reps with fruitful action items to turn prospects into buyers and existing customers into loyal advocates.
It supports reps to drive meaningful interactions
An effective CRM for a growth-driven distributor adds value to a rep's day by guiding them to the right opportunities at the right time with the right message.  
It's easy to use on the go
Your CRM is a crucial tool for your customer-facing reps – it's what keeps you and your customers connected. That's why it's so important to have a mobile app that's easy to use on the go and works.
Your reps like to use it 
Even the most cutting-edge technology is useless without buy-in from sales reps, sales managers, customer service, and other relevant teams. The best CRM for distributors doesn't feel like a data-entry chore for reps.
It pays for itself 
Any digital investment may seem intimidating for distributors, but the right system will be well worth its cost.
Meet Proton: The Only AI-Powered CRM for Distributors 
Proton's CRM is purpose-built for distributors and powered by artificial intelligence (AI). Acting a system of action, Proton steers your sales reps toward the right customers at the right time with the right message.
Proton offers robust AI capabilities that span every sales channel, including:
Customer service 

Inside sales 

Outside sales 

eCommerce 
 Here are some of the ways Proton is different from traditional CRMs: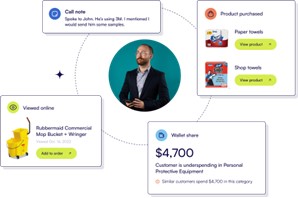 360° customer view
Unlike traditional CRMs, Proton integrates with all the places your data lives including your ERP, PIM, ecommerce site, document storage, and more.
Having a tight integration with all of a distributor's existing tools allow their sales and customer service reps to get a holistic view of everything going on with customers, including what they've purchased, open quotes, how other teams are engaging with them, what they've viewed online, and products they should be buying or reordering. 
Mobile App for iOS and Android
A reliable and user-friendly mobile app for your CRM is essential if you're a customer-facing rep, especially an outside sales rep. Proton's CRM mobile app for iOS and Android is designed with this in mind, making it easy for reps to access important customer information on the go, review which products to pitch before a customer visit, and even share product sell sheets with customers in real time. The app also allows seamless collaboration with colleagues through call notes, helping reps stay organized and connected while in the field.
Rich product data on opportunities
You have hundreds of thousands of SKUs in your catalog, and sales reps can't be familiar with them all. Proton's integration with your PIM makes rich product data available on a sales rep's CRM dashboard for each product associated with an opportunity they are pursuing. With a click of a button, reps can see a product's description, whether it's in stock, find suitable substitutes, and suggest complementary add-ons. This product insight streamlines the information a rep needs to know to provide the best customer experience.
Account prioritization
Using AI, Proton prioritizes accounts so sales reps can guess who to talk to less and sell more. When a sales rep goes into their assigned accounts in the Proton dashboard, they see who they need to talk to and in what order.
How does it work? Proton assigns each account a Proton Score™. After analyzing the customer's behavior and maximum revenue impact potential, Proton ranks each account. It looks at customers at-risk for churning, those who haven't ordered in a long time, large customers whose spend has declined, and prospects who browsed products online but didn't place an order. A high Proton Score™ indicates a customer needs your reps' attention immediately.
AI-generated sales pitches
Proton's CRM comes with a built-in playbook so that sales reps not only know who to talk to but also what to say when they talk to each customer. For example, on the account screen, a sales rep might see a customer is due to reorder scalpels; the last time they ordered them was seven months ago. This prompts the sales rep to ask the customer if they need more scalpels and engage the customer in a meaningful, personalized conversation.
Proton also highlights categories where buyers are underspending and products they should be buying from you. For instance, a rep might see that a customer is underspending on safety equipment and spark up a conversation that leads to revenue. Proton also identifies wallet-share gaps that show products customers like them typically purchase. This gives a sales rep another product suggestion to discuss with the customer.
Online customer activity via ecommerce integration
With Proton, sales reps can see what products customers browse and order online. By integrating with your ecommerce platform, Proton gives sales reps insight into what customers are doing on channels they own as well as ecommerce.
Granular reporting, including by manufacturer or vendor
A lot of CRMs have reporting, but it's not distributor specific. With Proton, you can see how much you've sold by vendor or manufacturer allowing you to make data-driven decisions.
ROI report right in the CRM
Unlike any other CRM, Proton displays an ROI report within the app. It tracks Proton-attributed revenue so you can see the sales impact of the tool. From Proton's reporting tab, you can see how many products were pitched to a specific account and the revenue generated by those pitches. Proton also provides an ROI report at the team or organizational level. For example, you can see how many pitches – and their revenue results – for pitches made by reps.
Intuitive and easy to use
Proton's CRM is designed to be easy for reps to use, helping them work more efficiently and effectively. One key feature that sets Proton apart is the ability to deep search documents, allowing reps to quickly find answers to questions about products on the fly. This is especially important for a distributor with a large number of SKUs. In addition, Proton is designed to be a helpful tool rather than a burdensome data-entry chore. Features like one-click call logging help eliminate manual data entry and make it easier for reps to stay organized.
The checklist below shows how Proton stacks up to other platforms on the market.  
 A traditional CRM intended as a one-size-fits-all solution for any industry will only frustrate your sales team and leave you wondering where the ROI is. Choosing a CRM built for distributors is the only way to ensure that your CRM investment produces the results you want. Not only does your CRM need basic features to track accounts, contacts, and opportunities, it needs to be fully integrated with every system where your company's data lives and use AI to drive smarter selling.
Learn More About Proton's AI-Powered CRM for Distributors
Want to learn more about how Proton can help you become more productive, enhance customer relationships, and increase sales? Schedule a demo with a member of our team today.